Interested in becoming a member of UAHQ? Membership dues for the state association (UAHQ) are $45 per year. Please join below to continue to receive information about the UAHQ including member newsletters, invitations to networking events and our annual conference. If you have any questions or concerns with membership please email us at [email protected].
What are the benefits of being a UAHQ member?
–Networking –UAHQ members consistently list networking as the number one benefit of membership. Through our Professional Development Series, other periodic trainings, and the annual conference, members get the opportunity to network with other quality professionals within the state. In addition, members who volunteer for Board positions or Committees get the opportunity to network with their industry peers on a deeper level.
–Professional development and education – UAHQ offers a Professional Development Series throughout the year as well as an annual conference. These meetings focus on topics of importance for quality professionals. Additionally, UAHQ offers a CPHQ certification preparation course every 18 to 24 months which prepares members to pass the certification exam.
–Member communications – Each quarter, members receive a newsletter with local and national topics and events of interest to quality professionals. E-mail announcements with news, upcoming events, and important member updates are sent to membership between newsletters.
**Registration is managed through Google Forms- some companies have blocked Google websites, if this link does not work for you please try again when you are not behind your company firewall.
The annual membership cost is $45. Payment can be sent in the form of a check to:
Utah Association for Healthcare Quality
Attention: Treasurer
P.O. Box 521073
Salt Lake City, UT 84152
[email protected]
Or choose one of these options below:
Venmo us @utahq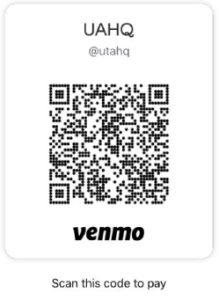 Pay via Credit Card on SQUARE at https://uahq.square.site/