Welcome to the Utah Association for Healthcare Quality!
We hope that you find many helpful resources on this website.
A Message From the UAHQ 2023 President Emily Carlson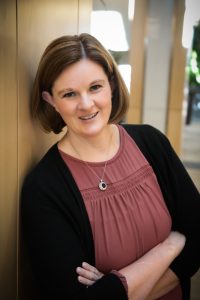 Welcome to the UAHQ, I am so glad that you found us! The Utah Association for Healthcare Quality is a special organization that I am proud to be a part of. Our association may be relatively small but within our association there are many opportunities for new connections and collaborations and opportunities to continue to improve the health of anyone seeking care in Utah.
I was first introduced to UAHQ in 2019 at the Annual Conference. The association reached out to me to see if we would display a recent poster at the conference and I decided to attend the conference as well as have that poster displayed. Having worked in healthcare quality in Utah since 2005 I am sad to say that it took me 14 years to find UAHQ.
Based on my experience in finding UAHQ, this year as UAHQ President I have three main goals:
Strengthen our collaboration with each other– being on the UAHQ board the last few years has given me the opportunity to meet new people, hear new ideas, and get acquainted with people I otherwise would not have worked with. I can truly say it has been a benefit to me to work with the board as friendships have been created. I want that same benefit for all of our members. I hope that as we hold more learning and networking opportunities in addition to the annual conference you will meet someone new and be able to form a friendship or a connection that you might turn to in the future.
Increase our membership– there are so many healthcare quality professionals working in Utah it is my goal that we find more of those professionals and gather them into our association that we may learn from them, network with them, and solve problems together. Strengthening our collaboration opportunities includes strengthening our numbers. We all come from a wide variety of healthcare quality jobs. I learned recently that there are at least 17 people in my organization that manage a team of healthcare quality individuals supporting different aspects of the organization. If only we could get all of those people to share their expertise and then multiply that by the many different healthcare organizations throughout Utah from Hospitals to Outpatient Care to Insurance Companies to Home Health to Skilled Nursing Facilities and so much more- there is so much knowledge that we could tap into to support each other, because, although our organizations may be different our challenges are at least somewhat the same.
Provide increased opportunities for learning– In addition to helping our membership grow I hope that we can also increase the number of opportunities that we have to learn from one another. We will be holding Lunch and Learn sessions during the year to complement the information shared at the Annual Meeting. Sometimes hearing an idea from someone else, even if it is not your area of focus, can spark an idea that will help you out in the future. If you have something you are wiling to share, we want to hear it!
My challenge to each of you is to actively participate in UAHQ. Please come to the Annual Conference in the fall but also, please participate in lunch and learn sessions, come to networking events, and perhaps most important, invite a colleague or a friend to join UAHQ with you. We want to hear from you, if you have an idea of something that you want to present to the association please reach out to me at [email protected] and tell me about it. Let's spread the word about the amazing work that each person in this association is doing so that we can learn and work together. The larger this association becomes, the stronger it becomes so that we are recognized as THE voice for Healthcare Quality in Utah.
I firmly believe that the expertise needed to achieve almost any healthcare quality goal exists within the knowledge of those working in Utah- we just need to find a way to harvest that knowledge together and this association can do that as we work together, network, and get to know each other and our individual areas of expertise. So, if you are reading this, forward this to someone and tell them why you are a member of UAHQ and invite them to join us in this journey.
As your association president, I am here to support you. I am here to be a voice for healthcare quality and I hope you will join me in that endeavor.
Here's to a year of growing and learning, welcome to UAHQ!