Welcome to the Utah Association for Healthcare Quality!
We hope that you find many helpful resources on this website.
A Message From the UAHQ 2022 President Mouna Ayoub Bahsoun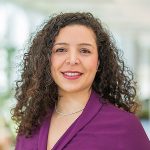 When I think about my first encounter with UAHQ in 2018, few months after my arrival to the US, it feels unreal that I'm writing my president's message today and, more importantly that I got to know, work with and learn from all of our engaged and highly committed members in the last few years.
Through UAHQ, we are committed to connect healthcare workers and quality professionals in Utah and to create a network of like-minded people who keep community members at the center of care design, regardless of race, religion, gender, etc. In fact, our conversations this year have been and will continue to be about the moral determinants of care, as an answer to Dr. Berwick's call in December 2021.
We all know the challenges that have come with and after the pandemic: staffing shortages, the alarming increase in poverty and homelessness and the national behavioral health crisis, but as board members, we've been invested in going to the root causes of these issues, identifying successes in the local, national and international healthcare scene to spread and scale up, and learning from our failures to better serve our community. As quality professionals we're continuously partnering with colleagues, community leaders, and policy makers to live up to our UAHQ values of commitment, leadership, empowerment and integrity and make care safer, accessible to all and more reliable.
I hope that we're delivering up to your expectations and that UAHQ holds the same importance in your professional life as it does in mine.